Exists-
Executive Information Systems


Exists is a decision making tool for asset management or portfolio management . It helps the business processes, that support management of an organization's assets by providing summary of the portfolios.. Exists has multiple summary panel tabs, to analyse and compare with other portfolios. Summary is fully scalable and it is possible to view either a single or multiple presentation of the Portfolio's performance by chart,Order Status Book or Recent Transaction

It has been designed for Enterprise Implementation with .net & Microsoft technologies .Our product architecture & development methodologies ensure high performance ,robustness reliability & scalability. All our products have been continuously evolving & incorporating new feature based on the requirements of the customers .

Exists can be deployed as an independent or as an add on module with the existing IT systems.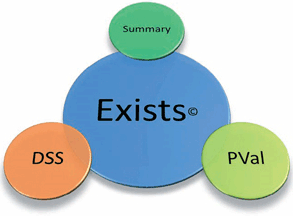 How & what it does.

In the management of information systems, a dashboard is an executive information system where user interface that is similar to that of an automobile's dashboard & is designed to be easy to read.

For example, a product might obtain information from the local operating system in a computer, from one or more applications that may be running, and from one or more remote sites on the Web and present it as though it all came from the same source.

This is what Exists exactly does ,it acts as a dash board .

EXISTS™ is a handy tool for account officers, Customer Relationship Manager and Fund Manager which is developed in latest Microsoft Technologies . EXISTS™ has a built in application that gives complete information of the portfolio in one single screen. Without any interface Exists allows you to view the portfolio with the latest data on the fly , in real time using Jbase tables. Thanks to its user friendly & open modular design it can be adapted to the specific requirement of any financial institution.


Business Value
Exists is fully scalable and it is possible to view either a single or multiple presentation of the portfolio

Exists acts as a decision making tool, the integrated and highly customizable validation system will alert you on the list of deviations, so that the corrective actions can be made by the Portfolio manager.

You get immediate adaptability to changes and updates, as well as the ability to look ahead and analyze the effects of those changes on the portfolio.
For any further information about ( All solutions) please contact info@4s-group.com




Globus T24
Our T24 resourcing service is one of the fastest growing practices . Fouress is a comprehensive resource outsourcing partner who can provide technically & commercially viable solutions to address all your T24 staffing needs. With wide array of Globus T24 Technical skills & expertise, we can help you to overcome challenges like skill scarcity, skill spread, IT cost, inflation and improper utilization of resources.